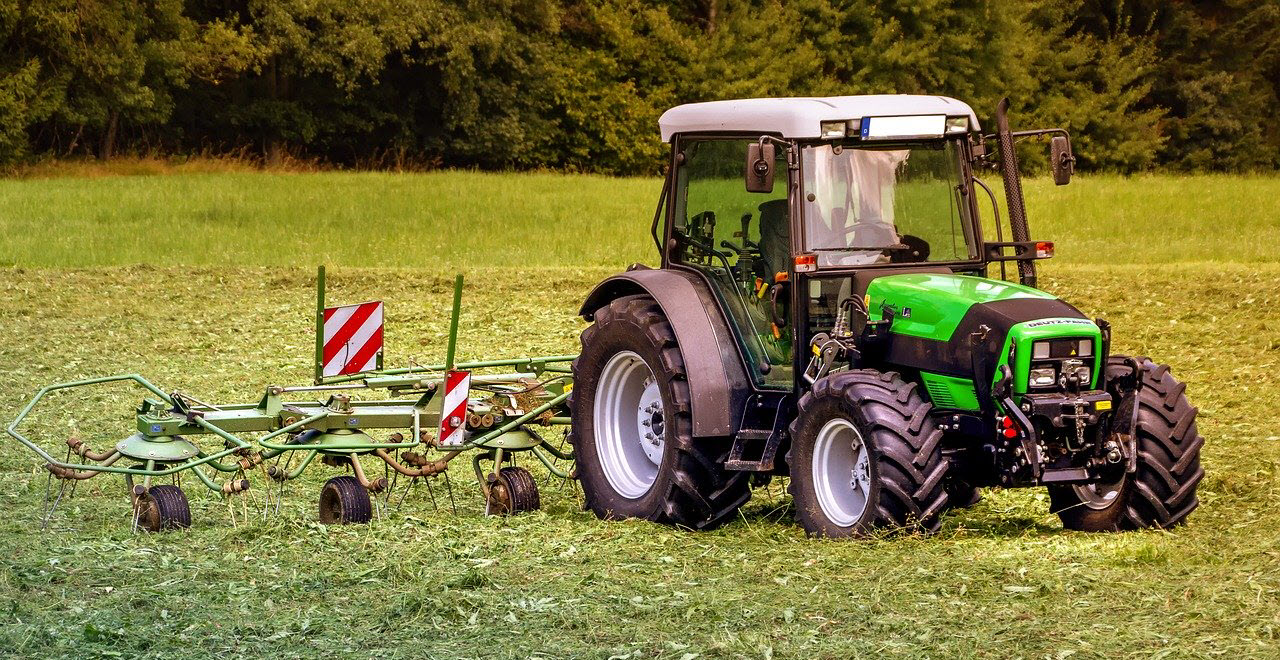 The most demanded tractor brands on the used equipment market during the first half of 2020
0

Tractors are most common machines on all farms and sometimes could be the only versatile piece of equipment needed to do all types of jobs. Currently, there are over 16 000 used tractors for sale on Mascus. According to our statistics, buyers send out on average 3 400 monthly email requests for used tractors to dealers and professionals advertising on Mascus globally. In addition, 2 300 calls are placed by users interested in tractor listings.
Tractors account for approximately half of the email contact requests that buyers send to sellers for all used agricultural equipment listed on Mascus.
The demand for tractors is growing
Overall, during the first half of 2020, the amount of email requests for tractors listed on Mascus has increased by 51% compared to the same period last year.
If we look at the month of April alone, there is a contrasting development compared to last year. While buyer's interest dropped by 26% from March to April in 2019, the demand for agricultural tractors rose by 24% in April 2020 compared to March 2020.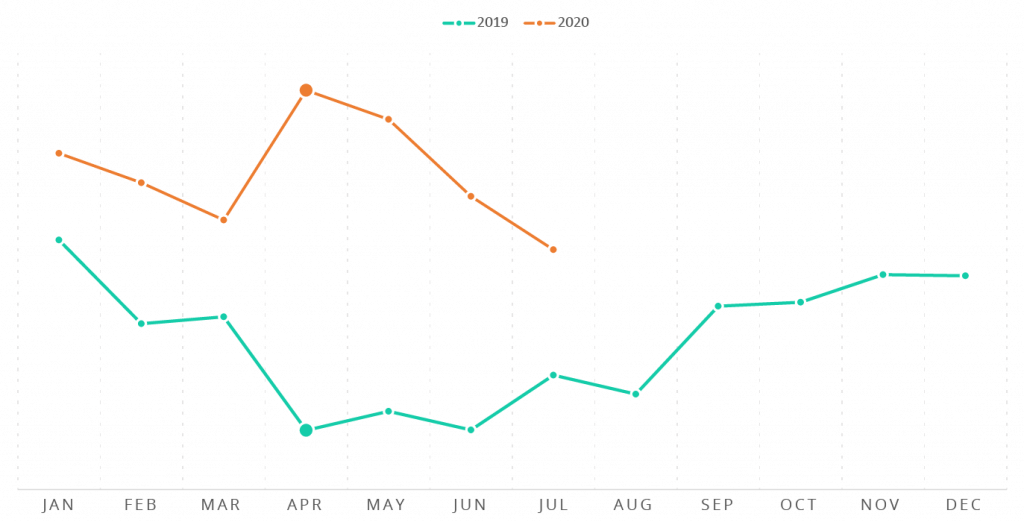 Top 10 most demanded tractor brands on Mascus
John Deere is a big player in the agricultural sector and this is also evident on Mascus, where they hold a 23% demand share for tractors. They are followed closely by Massey Ferguson (21%). It is worth mentioning though, that the offer of John Deere tractors on Mascus is more than two times larger than the volume of Massey Ferguson tractors listed for sale.
The top 10 for most demanded brands of tractors remains the same as last year, with Massey Ferguson winning just 1% from the John Deere demand share this year.
New Holland completes the top 3 of most preferred tractor brands, with 12% demand share. Moreover, CNH Industrial receives in total 20% of the email contact request to his brands of agricultural equipment: New Holland (12%) and Case IH (8%).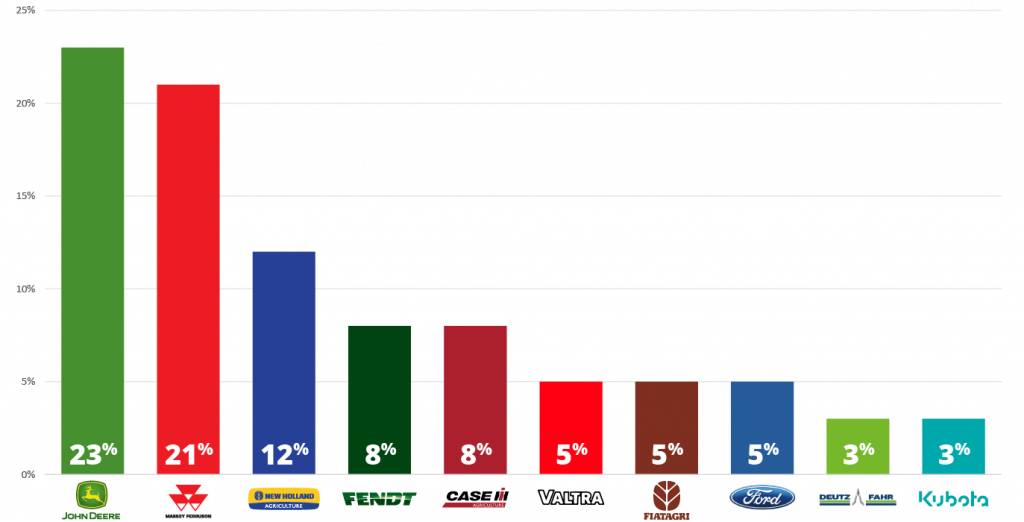 Next, we are exploring deeper into brand preferences per region and revealing top 3 most requested brands of tractors per country. These statistics are based on the number of email contact requests sent by buyers (Mascus users) from a specific country to local or international dealers advertising on Mascus.
Top tractor brands requested by buyers from the United States and Canada
Naturally, on the home turf in the USA, John Deere receives 29% of the email buying requests for tractors, with 10% more than Massey Ferguson (19%).
However, in Canada, the number of email requests for used tractors is equal for both Massey Ferguson and John Deere brands, each holding a 22% demand share.
New Holland is the third preferred tractor brand in both USA and Canada, receiving 13% of the buying requests.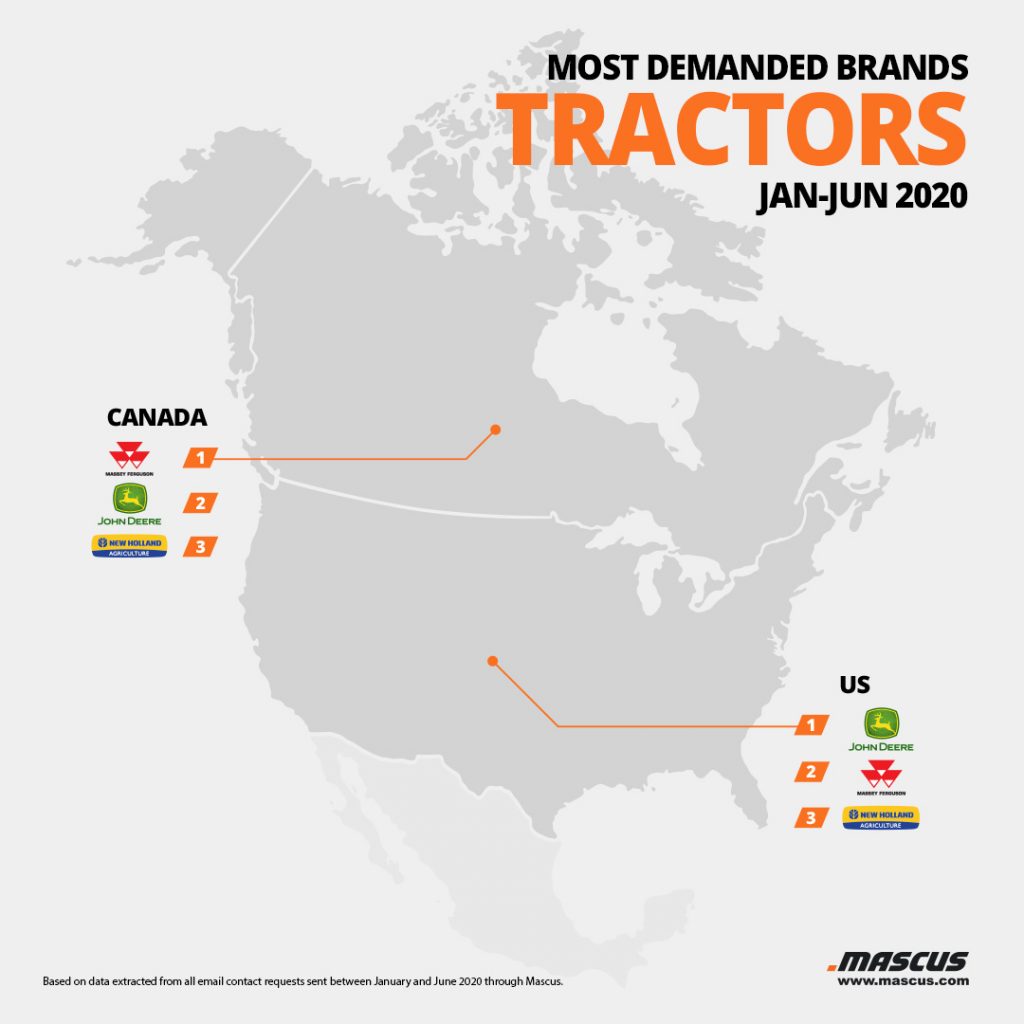 Top tractor brands requested by buyers from West Europe
Top 3 tractor brands preferred by buyers from West Europe are generally Massey Ferguson (receiving 23% of email contact requests), John Deere (22%) and New Holland (12%).
In the smaller league, Fendt tractors receive 10% of the buying requests in this region, then Case IH (7%), Ford (6%) and Fiat (6%).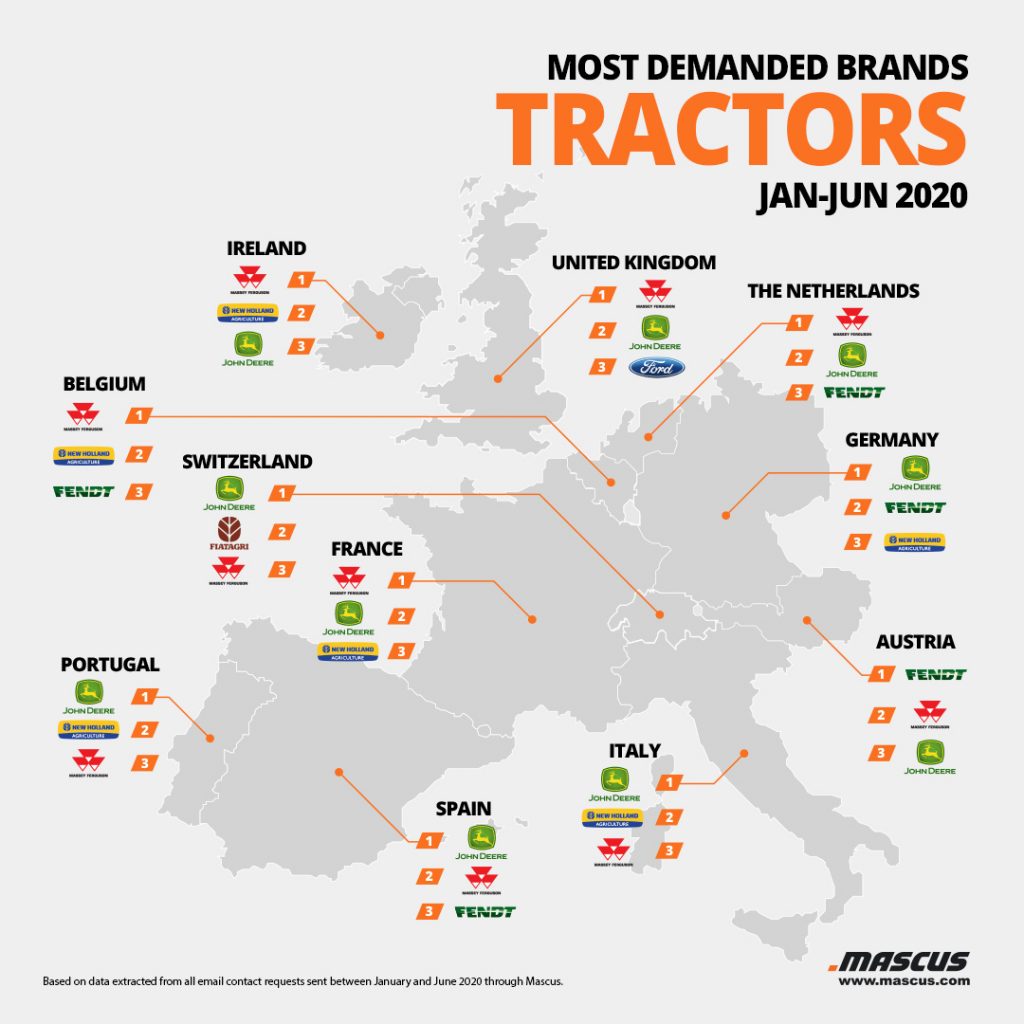 Top tractor brands requested by buyers from the Nordic and Baltic region
John Deere is the strongest tractor brand in the Nordic and Baltic region overall, as a consequence of being top preferred brand in the Baltic countries and in Denmark, and second in the rest of the countries. It amassed 22% of the demand share in the first half of 2020, growing by 3% since last year. Massey Ferguson (15%), Valtra (13%), New Holland (12%), Case IH (11%) follow in the buyers' preferences with similar demand share.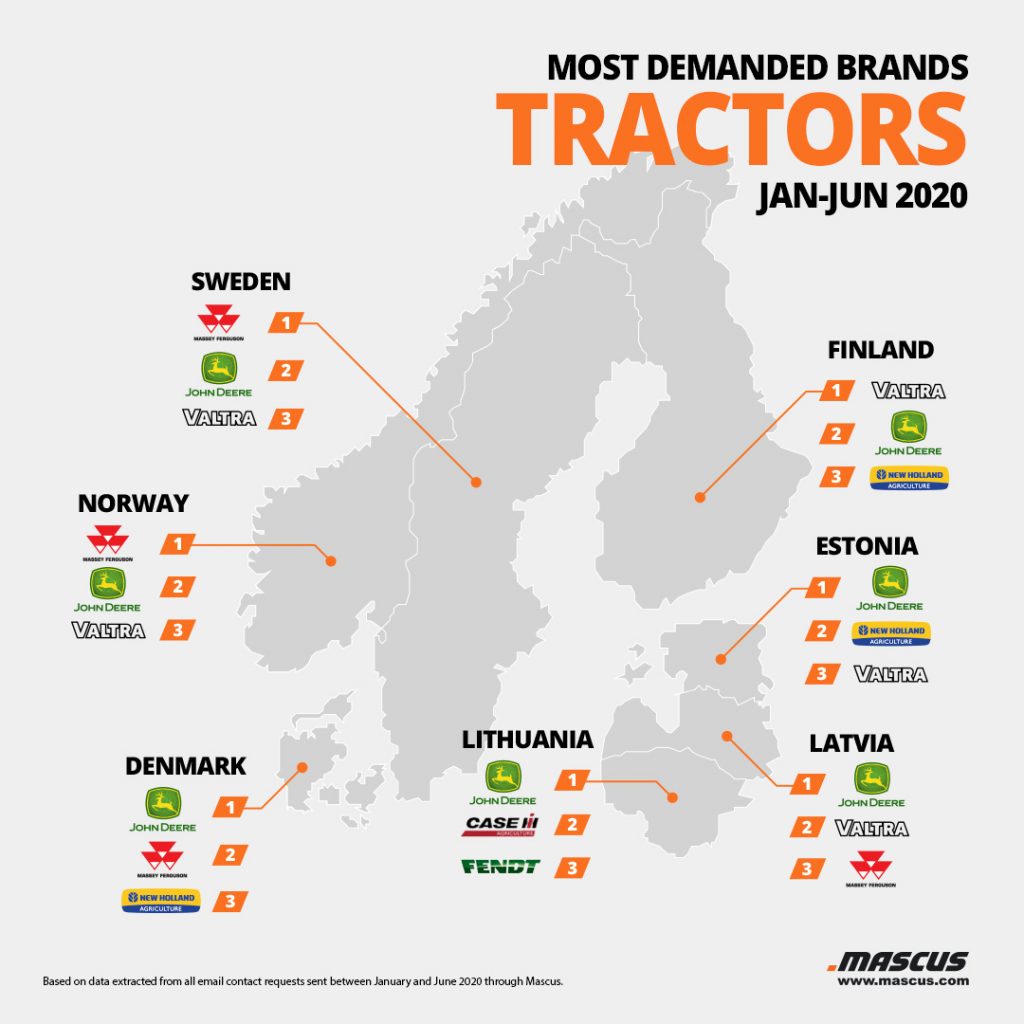 Top tractor brands requested by buyers from East Europe
The preference for John Deere tractors is most notable in East European countries, where they receive the highest percentage of email contact requests if we look outside of US: 28%. That leaves all the other brands with smaller demand share: New Holland (12%), Massey Ferguson (11%), Fendt (10%), Case IH (9%).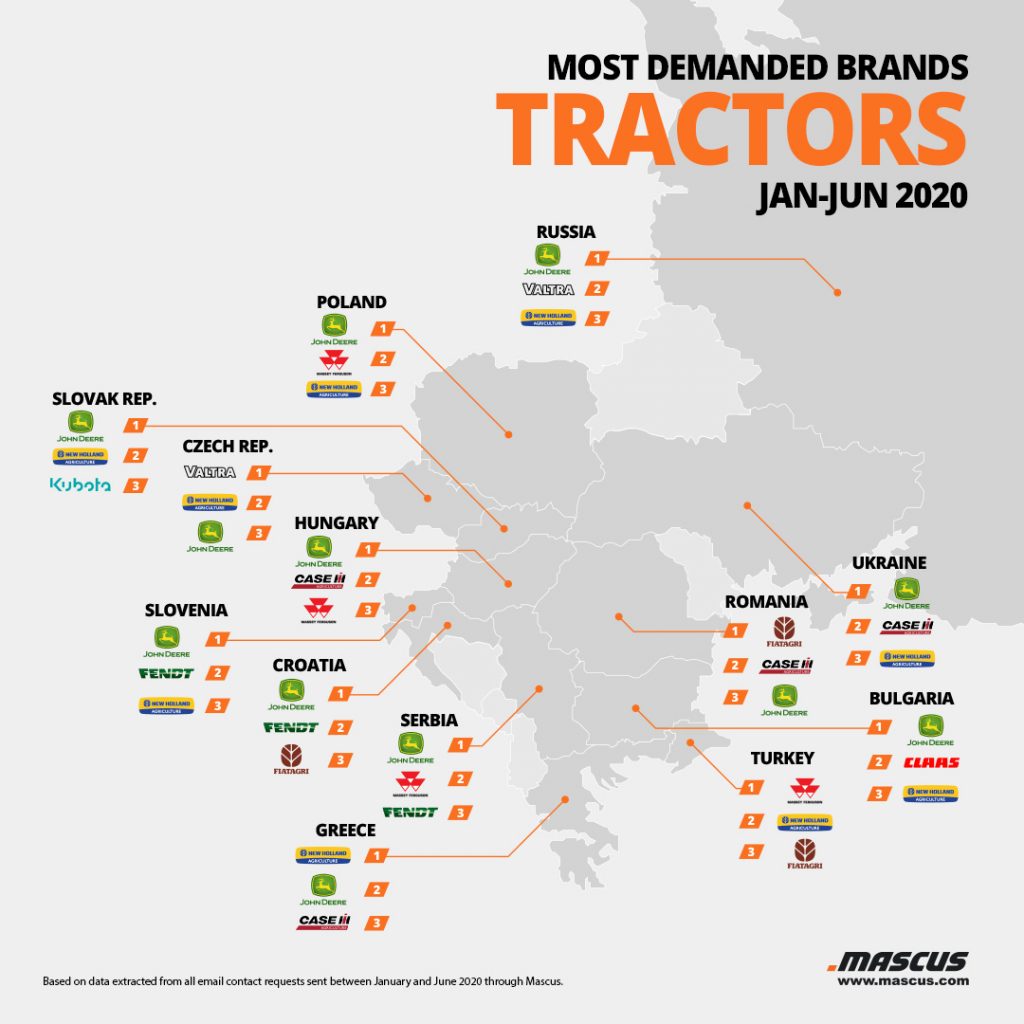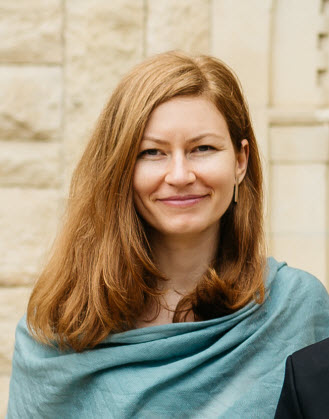 Communications Specialist & Social Media Manager at Mascus