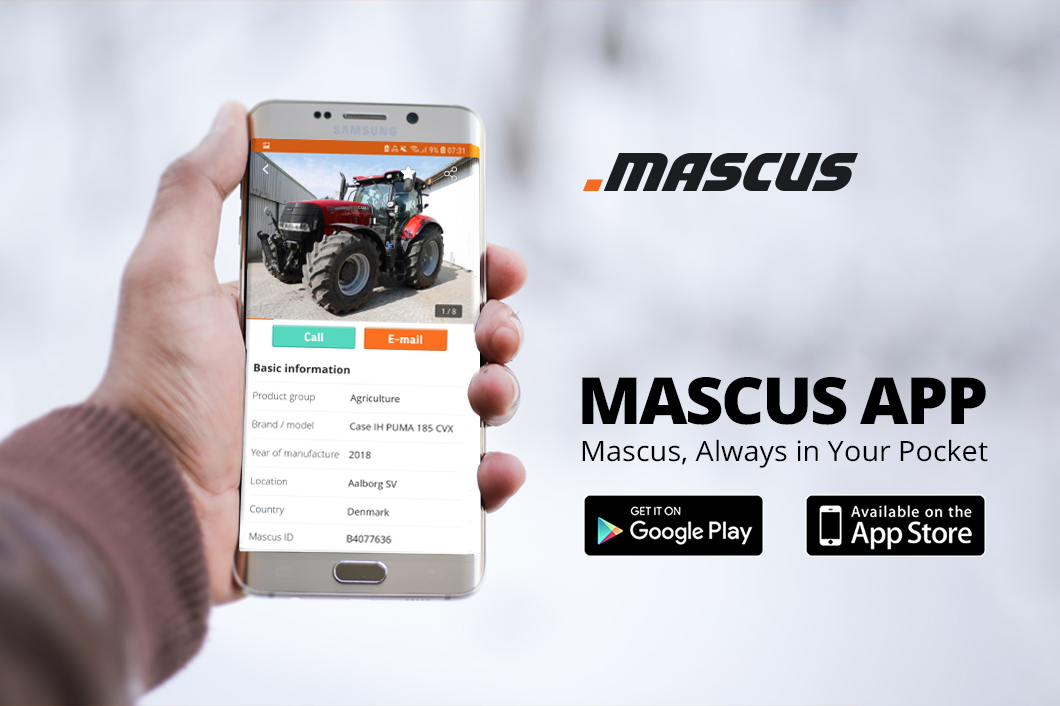 Mascus Launches Its Mobile App to Search for Used Heavy Machinery & Trucks
0

Find used heavy machinery and trucks on Mascus from your mobile phone
We are proud to share the new Mascus – Used Equipment app with you. Our app is available for free and works on iPhones, iPads, any Android smart phones or tablets. Install the Mascus App from the App Store or Google Play and get access to more than 400,000 ads of the best used construction machines, agricultural equipment, forklifts, forestry machines, trucks and more. With this app, you will always have Mascus at the reach of a button.


Mobile phones have become an essential part of our lives and we use them to find and buy items we need, whether it's a train ticket, a hotel booking or a used car to name a few. There is no exception for the heavy machinery industry. As a matter of fact, more and more buyers visit the Mascus website via their phones and in 2018 our mobile traffic (visits) has overpassed traffic from desktop computers and laptops. The natural step in our strategy was to release a Mascus mobile app to better serve the needs of our users which we know are often travelling and on the go.
Our app includes several central features that make searching for a used piece of equipment for sale, an easy and fast experience. Just select one of the six categories of machinery (Transportation, Agriculture, Construction, Forestry, Material Handling, Groundscare) to initiate your search and get relevant results instantly.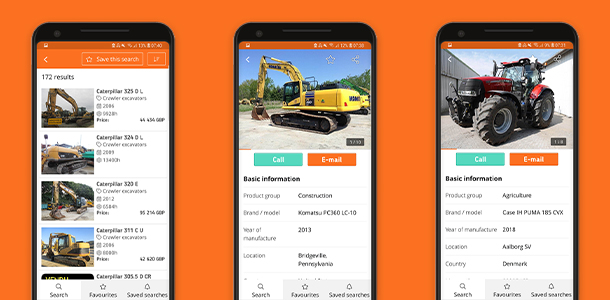 Are you looking to buy a used Case IH tractor, manufactured no later than 2015? Our detailed search feature allows you to narrow down the results by machine category, brand, model, price, year, location etc.
Contact the seller directly from your mobile device via phone or email
Once you find a machine that interests you, it's just as easy to contact the dealer by phone or email, directly from the Mascus app.
You want to receive an alert every time a specific machine is freshly added on Mascus? Save your search and turn on the notification setting and the app will notify you as soon as a new machine listing matching your search criteria gets listed on Mascus. In the search results, simply click on Save this search button. You can later edit or delete this by clicking on the Saved searches menu on the bottom of the screen.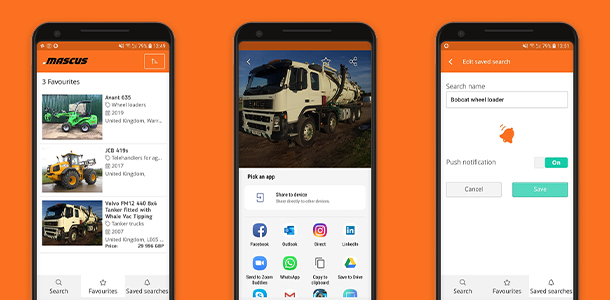 If you find the Mascus app for used equipment useful, we would appreciate your rating it in the app stores and sharing it with friends and colleagues. We also encourage you to leave us a short feedback, if you have any.